PRODUCT SHOTS:
consumerism, noun, (kæn-sõõ'mær-iz'æm)

The movement seeking to protect and inform consumers by requiring such practices as honest packaging and advertising, product guarantees, and improved safety standards.
The theory that a progressively greater consumption of goods is economically beneficial.
Attachment to materialistic values or possessions: He deplored the rampant consumerism of contemporary society.
SWISS ARMY WATCHES

LEVENGER PENCILS AND SHARPENER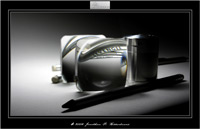 *Honorable Mention
Recently placed 9th out of 142
on POTY.com

STARBUCKS MINI COFFEE MUGS

RITCHEY BICYCLE COMPONENTS

MICHELIN MOUNTAIN BIKE TIRES

FERRARI PRANCING HORSE CAP

PIER 1 IMPORTS PARTY GLASSES